The Free Guide to Generac PWRcell
Learn about battery storage + solar power and whether the Generac PWRcell is the right solution for your home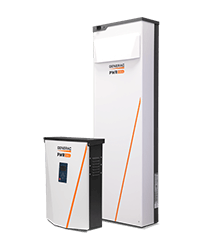 Frequently Asked Questions
How long does the Generac PWRcell last?
How long a single PWRcell will last on one charge will depend on what energy loads you are prioritizing in your home. High-demand loads like HVAC will drain the battery much faster than lower loads such as lighting and your refrigerator.
The beauty of the PWRcell is that with Smart Management Modules, you can back up an entire home with a single PWRcell because of the simple load priority & management features.
In terms of product lifespan, the Generac PWRcell comes with a standard 10 year, 70% warranty.
How much does a PWRcell system cost?
Assuming you had a Generac inverter already installed with a solar system and you wanted to put in an 18kWh PWRcell (1 cabinet fully loaded with 6 battery modules), pricing would come around $15,000 to $17,000 depending on load control add-ons.
Can Generac PWRcell be AC coupled?
Right now, the Generac PWRcell system is a DC coupled system. This means, solar energy feeds directly into the battery without the additional conversion which allows for a 7-10% efficiency gain, compared to the Tesla Powerwall.
Can Generac PWRcell charge from the grid?
Right now, the PWRcell needs a DC power source, so it technically can't be installed without a solar system or charge directly from the grid. Since a Tesla Powerwall is AC coupled, it can certainly be installed with solar or without. But, we don't quite recognize the value of installing battery storage without solar for the average homeowner in North Carolina.
Fill Out the Form Above to Download the Guide and Learn More!
Our Process
We've installed 350+ battery systems in North Carolina. Here's how it works!
Discover.
Talk to our energy educators to learn about battery storage + solar power. Fill out a free quote request form above to get started.
Design.
Work with one of our solar + storage designers to customize a system that meets your home and family's energy goals.
Store.
Enjoy energy independence with smart home back-up power and energy monitoring on the go!